Serving A Verified Quality Of Hand Sanitizers and Sanitizer Stands, At Fair Prices!!!
About Us
We, J.K Enterprise have started in the recent year, 2020. Our goals & aspirations for contributing in the Indian marketplace with premium quality Hand Sanitizers and Sanitizer Stands are helping us in sustaining fast growth & progression in the respective domain. Being a manufacturer, we are engaged in the production of a comprehensive range which consist of Foot Operated Sanitizer Stand, Sanitizer Sprays, 5 Ltr Hand Sanitizers, Pure Hand Sanitizers, Wall Mount Foot Operated Sanitizer Stand and more items. These qualified items are delivered by our enterprise along with premium quality packaging which make storage & shipment highly safe.
Our vision is to solidify the name of our firm amongst the leading sources in country that are providing reliable services and business offers. For this, we are pursuing our mission of generating finest quality products in order to meet utmost customer satisfaction every single time they come to us. Furthermore, we aim to take our company to great heights through our progress-focused work approaches.
Quality Maintenance
Our primary concern is maintaining quality in products. We are working in compliance with the international industry guidelines and standards for continuously practicing quality-controlled production. All national policies are being followed by us. It is our team of quality experts who inspect & monitor the overall processes from initialization to final packaging. Their keen focus remains upon ensuring that only quality certified products are being delivered from our end.
Manufacturing Area
For the production, quality assurance, packaging and storage of items such as Foot Operated Sanitizer Stands, Sanitizer Sprays, 5 Ltr Hand Sanitizers and more, we are backed by a clean manufacturing area. On regular basis, the entire workplace is examined and sanitized so that, absolute hygiene & safety can be maintained while exercising the organizational processes.
Why Choose Us?
Several factors based on which, most of the customers are choosing us over any firm are:
Our quality-driven production of products

Our customer-oriented management of inbound and outbound processes
Our easy accessibility, transparent & strong communication
Our prompt deliveries and reasonable prices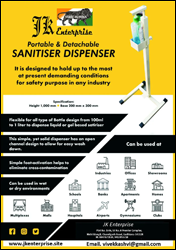 Get in touch with us